Card Valet
Anywhere. Access. Control.
Manage Debit Card risk by defining how, when and where your Debit Card is used.
Strengthen the security of your First National Bank debit card with CardValet, which helps protect your debit card using your mobile device. CardValet is a mobile card fraud management application, enabling you to control how, when and where your debit cards are used.
FRAUD PROTECTION Card on/off setting: Turn your debit card on or off to either allow, or deny purchases made with your debit card. Additionally, the card can be turned on/off in-between uses for added card protection.
CONTROL SPENDING Card usage control: Control and monitor transactions for merchant categories and easily set spending limits to not exceed predefined thresholds.
REVIEW BALANCES AND TRANSACTIONS: Monitor your finances from anywhere. Use the CardValet App to check your account balances.
INTERACTIVE ALERTS: Alerts can be set to let you know when transactions are approved or declined.
Get Started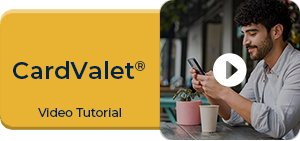 Download the CardValet app by clicking on the appropriate link below.
Aside